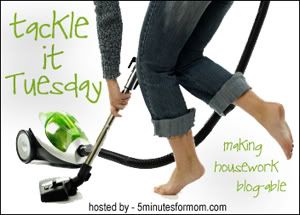 I love Tackle It Tuesdays...but I must say that I'm having a HECK of a time trying to find things to tackle...or should I say, find tackles that I have TIME to finish! First I thought, the basement? Nahhh. The windows? Nahhh. Hmm..what's for dinner? Low and behold, I opened the fridge and the tackle stood before me.
Before
After
And, if you are wondering what WAS for dinner - it was Cincinnati Chili over steamed spaghetti squash topped with cheese and a dollop of sour cream. Gosh, just typing that almost made me hungry again.
Do you have a tackle to share? Let it be known on
5 Minutes for Mom
!