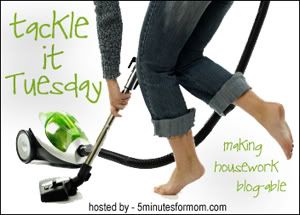 I had a very difficult time trying to find something to do for
Tackle It Tuesday
this week. I mean...not that there aren't a gazillion things that need to be done around here...but just couldn't find something that I had
TIME
to tackle.
Lo and behold - *in loud, echo-ey, deep voice*- The Seinfeld Cereal Cabinet. No family of three should ever,
EV
er,
EVER
have that much cereal. Buuutttt...when you get them for little to nothing or free - hey, why not. This wasn't some huge project, but something I've been meaning to do for a while. And, while I was at it, I cleaned out the corner turn-a-bout as well. :)
Here ya go! - Before
After
Before
After
Wow! Look at all that room back up in there! Amazing how much stuff can hide out in 9 sq. ft. of space.
You have something in need of tackling?? Get to it!!